Not only are black designers making pivotal moves in the fashion world, but iconic brands like FUBU and Karl Kani are definitely making a comeback. These black owned clothing brands from the 90's were not only a staple in the Hip Hop community, but also embodied the urban culture. Every major artist from LL Cool J, Aliyah, P. Diddy, and Notorious B.I.G were seen reppin these brands in the 90's. Recently in Teyana Taylor's "How You Want It?" music video, her and Christian Combs were dripping in Karl Kani from head to toe. Other celebrities like Winnie Harlow, Sevyn, and Travis Scott has also been seen in these brands.
FUBU, which stands for, For Us By Us, was founded in 1992 by Daymond John and group of his friends. Daymond John, Alexander Martin, Carl Brown and Keith Brown were neighborhood friends that decided to pursue their dreams. FUBU started off as a small fashion brand making tie top wool beanies in Daymond John's Queens home. Soon after their start this brand manufactured T-shirts, jerseys, sneakers and today this brand has sold more than $6 billion in merchandise.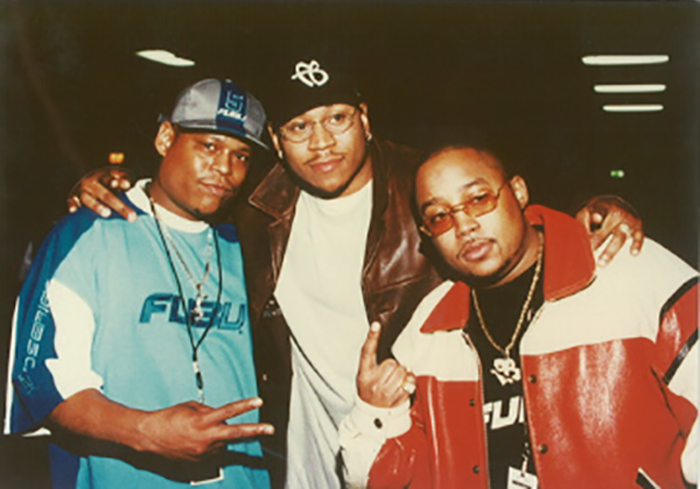 FUBU was seen in practically every Hip Hop music video and artist in the 90's era. "Fubu was always built on hip-hop culture. When we came up with the name, we were thinking about how we spend so much money making other brands rich, but it wasn't only meant for black people," Perrin told complex. In 2003 FUBU departed the U.S. market after running into some financial difficulties. "The biggest mistake we made with the brand was buying more inventory than we needed. This was around 2001," said Daymond John. Over the years Fubu has partnered with brands like Puma, Urban Outfitters, and most recently Century 21. On March 1, 2019 FUBU's "Can't Resist A Classic" campaign consisted of a capsule collection that introduced 10 styles based on classic pieces which is now selling in Century 21 stores and their website.
Brooklyn native, Carl Williams started making clothes as a hobby at the tender age of 16. It wasn't until he moved to Los Angeles in 1989 that his career bolstered. "I came out to L.A. with $1,000, a pocketful of dreams, and some samples," Karl Kani told Forbes. Colossal celebrities like Tupac, Nas, and Redman supported this urban street wear brand. Karl was named the God father of fashion.
In 1996 People Magazine named Karl Kani one of the 100 richest African Americans. Around this time the brand was raking in $80-100 million annually in sales. "Blacks are seeing that they cannot only be successful in music and sports, but now they're tapping into the industry of clothing, which was unheard of, really, for any blacks to be really successful," Karl told LA Times. The fall of this brand came when Karl and his business partner had differences, which lead to Karl fighting to buy rights back from his former partner. After a successful win the street wear brand resubmerged with a partnership with PrettyLittleThings, in 2018. The collaboration featured an 45 piece capsule collection starring the ever so stylish, Teyana Taylor. The collection includes colorful pieces, crop tops, body suits, jersey dresses, and more. This was the first ever brand collaboration for the UK brand PrettyLittleThings. "I want Karl's fans and customers to understand PrettyLittleThing in a different way after this, and I want the PrettyLittleThing customer to understand and respect the heritage of Karl Kani," says founder and CEO Umar Kamani. The first capsule collection was such an success that the brands decided to drop a second collection earlier this year.

The jeans may not be as baggy as before, but the 90's style is definitely in back in full effect. In the wake of this reemergence brands like Calvin, Tommy Hilfiger, and Fila has definitely profited, while we are still waiting for brands like Sean John, Ecko, and Phat Farm to join the come up.
About Post Author